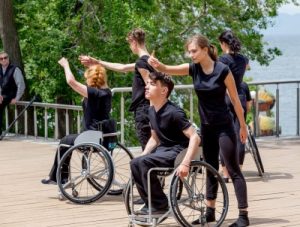 DANCING is informed by the human rights model of disability and is based on the rights and principles set out in the UN Convention on the Rights of Persons with Disabilities (CRPD). It is underpinned by the values of empowerment, respect for diversity and participation.
In DANCING we embrace the concept of disability laid out in Article 1(2) CRPD, which recognizes that persons with disabilities include those "who have long-term physical, mental, intellectual or sensory impairments which in interaction with various barriers may hinder their full and effective participation in society on an equal basis with others". As the CRPD Committee stated, "disability is a social construct", and stems from the interaction between the impairment and disabling barriers, and "is one of several layers of identity".
In line with the CRPD, which represents the global legal standard on disability, we will use 'people first language' (person with a disability – persons/ people with disabilities). We know that 'person with a disability' is not a term used by everyone, nor is it wording which everyone identifies with or agrees with. However, we chose to use person with a disability/ persons with disabilities in line with the language used in the CRPD, and with the principles of independence, equality, accessibility, and participation. We also believe it captures the broad range of people who could be interested and involved in the project.