Research into disability and diversity in culture in European Union (EU) law is the focus of our project, DANCING. The full title of the project is:
Protecting the Right to Culture of Persons with Disabilities and Enhancing Cultural Diversity through European Union Law: Exploring New Paths (DANCING).
It explores the right of all persons with disabilities to take part in cultural life as an essential aspect of enhancing cultural diversity in the European Union. It aims to produce ground-breaking knowledge and adopts an interdisciplinary and participatory approach. The project is funded by the European Research Council and is based at Maynooth University under Professor Delia Ferri as a Principal Investigator.
Why are we doing research into disability and diversity in culture in EU Law?
We believe that:
Everyone has a right to take part in the cultural life of the community and to enjoy the arts.
People with disabilities are frequently not able to take part in art and culture.
When people with disabilities take part in art and culture, we all benefit.
Cultural diversity is a value in the EU, and people with disabilities participating in culture will increase cultural diversity.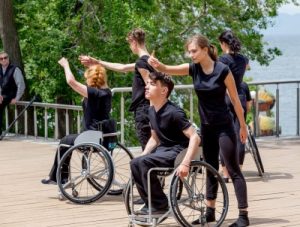 With DANCING we are researching disability and diversity in culture. We want to challenge the cultural exclusion often faced by people with disabilities. We aim to increase understanding of what facilitates cultural participation of people with disabilities. Ultimately, we want to contribute to the creation of a more inclusive society.
DANCING Logo
The logo of the DANCING project was created by Wonder Works in dialogue with the P.I. Prof. Delia Ferri. The logo consists of the warm font Aller, and loose hand drawn lines. The lines symbolise the movement and diversity of performing artists. The lines are different shapes but complement each other when put together. The logo is friendly but authoritative. Most importantly the logo is easily accessible at small sizes. We have created various colour combinations that respect accessibility guidelines. If you would like to listen to an audio description of the logo you can do so here.