Meet the advisory board to the DANCING project:

Anna Lawson is a professor in the School of Law at the University of Leeds, where she is also the Joint Director of the University-wide interdisciplinary Centre for Disability Studies. Her academic interest in disability and law is rooted in her own experience of life as a disabled person. Her research focuses on disability equality and human rights at the UN, European and domestic level.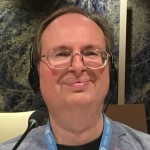 Damjan Tatic served as an expert member of the United Nations Committee on the Rights of Persons with Disabilities (CRPD) from 2011 until 2019. Damjan Tatic is legal expert of National Union of Persons with Disabilities of Serbia and is a researcher/ author. He is a guest lecturer at the Legal Clinic at Faculty of Law of University of Belgrade and ERA- Academy of European Law in Trier.
Bruno de Witte is professor of European Union law at Maastricht University, and part-time professor at the European University Institute (EUI) in Florence. He is co-director of the Maastricht Centre for European Law. Previously, from 2000 to February 2010, he was professor of EU law at the EUI, and co-director of the Academy of European Law there.
Mark Priestley is Professor of Disability Policy at Leeds University.  His research focuses on disability policy and politics, mostly in European and international comparative contexts, using both quantitative and qualitative methods, which translates into policy relevant analysis. He is a Fellow of the Academy of Social Sciences and administrator of the international online discussion forum disability-research.
Eilionóir Flynn is an Established Professor at the School of Law and Director of the Centre for Disability Law and Policy (CDLP), National University of Ireland Galway. Her research interests include legal capacity, disability advocacy, reproductive justice, and the intersectionality of disability, gender, and ageing. She has held an ERC Starter Grant for the VOICES project, is Scientific Co-ordinator of the DARE Marie Curie Initial Training Network and Principal Investigator of R(eal) Productive Justice: Gender and Disability Perspectives (funded by Wellcome Trust).
Sarah Whatley is Director, Centre for Dance Research at Coventry University. Her research, funded by the AHRC, the Leverhulme Trust, Wellcome Trust and European Commission, focuses on the interface between dance and new technologies, cultural heritage, dance analysis, somatic dance practice and pedagogy, and inclusive dance. She is founding editor of the Journal of Dance and Somatic Practices.